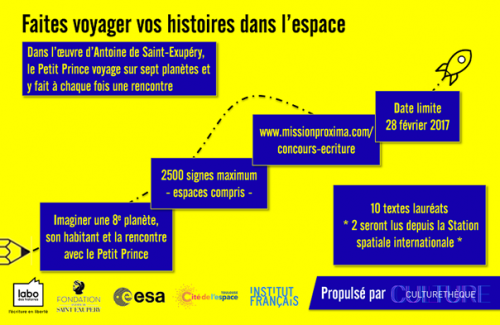 The Fondation Saint-Exupéry has recently launched an international writing contest:
« Faites voyager vos histoires dans l'espace »
Open from January 1st to February 28th 2017, young people under 25 years old can submit a text up to 2,500 characters (including spaces) about the travel of Le Petit Prince on a eight planet to meet a new person living there.
The text must be written online and in French on the following website: http://www.culturetheque.com/EXPLOITATION/GLOBAL/concours-ecriture-mission-proxima.aspx
5 winners will be selected in the category "France" and 5 other winners will be selected in the category "International" (one in America, one in Europe, one in Africa, one in Asia and one in Oceania).
Thomas Pesquet, a French astronaut sent for a six-months mission in the International Space Station and chairman of the jury, will choose one text in each category and read selected extracts from the International Space Station. The winners of the international writing contest will be announced on this occasion. Prizes will be awarded during a special ceremony in Europe during fall 2017 (details will be announced on the website of the contest).
Good luck!