Tsivia Frank-Wygoda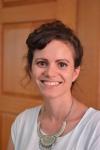 Tsivia received her PhD from the Hebrew University of Jerusalem in 2017. Her dissertation on the Jewish-Egyptian poet Edmond Jabès focuses on the relationship between work-in-progress, poetics and interpretation of texts; it offers a new contextualization of Jabès' rewriting of Jewish identity and textuality in post-war, decolonization-era France. She is now working on two books based on her dissertation: Edmond Jabès and the Genesis of the Book. Work-in-progress, Hermeneutics, Contexts (De Gruyter, 2019) and Le Palimpseste et le Canevas: l'archéologie du Livre des Questions d'Edmond Jabès.
Over the past few years, Tsivia has taught French literature at Bar-Ilan University, Israel: Writing the suffering body; Writing the self in the language of the other; Poetics of memories from Rousseau to Ernaux. Her research interests include French and Francophone 20th and 21st centuries literature, North-African literature, Holocaust and WWII literature, postcolonialism, exile and migration, space/language/identity. 
Tsivia was awarded a Fulbright Postdoctoral Fellowship to pursue at Yale a research project titled "Impossible Homeland, Paradoxical Longing, Shifting Belongings. Jews/ Algeria/ France in literature from 1954 to the present".