2023 Department of French's PhD Recipients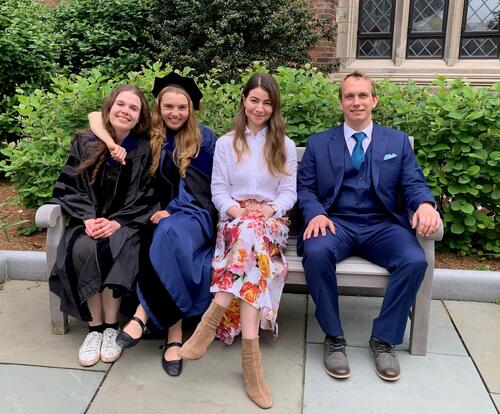 Our heartiest congratulations go to the Department of French's 4 recent PhD recipients:
Aaron Kestle
(Combined Program of French & Renaissance Studies)
"Magical Realism in the Middle Ages: The Marvelous Merlin of Arthurian Legend"
This dissertation, ambitious and well-researched, juxtaposes Arthurian romance and magical realism. Kestle develops the marvelous alongside multiple texts from the twelfth and thirteenth centuries, establishing thematic similarities Middle Ages.
Advisors: R. Howard Bloch and Ardis Butterfield
Readers: R. Howard Bloch, Thomas C. Connolly, and Nathalie Koble
Hannah Kosman
"Des Tableaux de la Plus Belle Horreur": Poverty, the Novel, and the Spectacularization of Misery in Nineteenth-Century France"
This dissertation discusses representations of urban poverty and charity in nineteenth-century French novels by Eugène Sue, Victor Hugo, Honoré de Balzac, and the lesser known Clémence Robert. Kosman takes issue with the received idea that the novel is foremost an investigation of the bourgeoisie and she shows instead that the novels she studies center on poverty, its causes and possible cures.
Advisor: Maurice Samuels
Readers: Morgane Cadieu, Marlene Daut, and Alice Kaplan
Madison Mainwaring
"Reclaiming the Silences of Dance: Women and Ballet in Nineteenth-Century France"
Through a detailed reconstruction of the records of the Opera, this dissertation rewrites the history of the French romantic ballet from the dancers' perspectives, analyzing what happened backstage through contemporary accounts and readings of visual material. Mainwaring casts a new light on women's and performance history, reversing two centuries of ignorance about the women artists of the dance stage.
Advisor: Maurice Samuels
Readers: Carolyn Dean, Jill Jarvis, and Rhonda Garelick
Sophia Helverson (December 2022)
"Novel Erudition: Expertise and Experience in Contemporary French-Language Fiction"
This is a well-researched dissertation on the form and stakes of "novel erudition" in twenty-first-century French literature. Helverson persuasively groups together a set of famous as well as lesser-known contemporary writers, making a strong argument for how we should expand, and how we might make sense of the early twenty-first-century French literary canon.
Advisor: Morgane Cadieu
Readers: Morgane Cadieu, Jill Jarvis, and Marta Figlerowicz