Annie de Saussure '16 PhD Winner of Phi Beta Kappa Society 2021 Walter J. Jensen Fellowship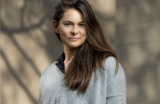 WASHINGTON, DC – The Phi Beta Kappa Society has chosen Annie Laurens de Saussure, Assistant Professor of French at Lafayette College, as the winner of the 2021 Walter J. Jensen Fellowship in recognition of her exceptional work as a scholar and teacher of French language, literature, and culture. Established in 2001 by Professor Walter J. Jensen (ΦΒΚ, UCLA), this award provides this year's winner with a stipend and round-trip travel to France for six months of continuous study. 
De Saussure earned her Ph.D. from Yale University and has received several grants and fellowships, including the Chateaubriand Fellowship from the Cultural Services of the French Embassy and the Ethel Boies Morgan Fellowship from Yale University. 
She plans to use the Jensen Fellowship for her project "Race, Radio, and the Republic: Decolonizing French Airwaves 1970-1990." De Saussure will examine "the cultural, literary, and social dimensions of the radios libres movement by highlighting the ways in which marginalized groups engaged in radio-activism to ensure that their voices would be heard and to contest the highly centralized institution of French broadcasting." Her project will draw on "radiophonic creative output" from French broadcast programming as well as archival documents and audiovisual materials. Building on her preliminary research, de Saussure will conduct extensive archival study in France at INAthèque, Centre des Archives Contemporaines (CAC), and the Maison de la Radio to focus on French literature and literary history, postcolonial theory, and media history. 
 
De Saussure's research in France will be the foundation for a scholarly monograph on the use of radio broadcasting by marginalized communities as a tool of empowerment. She plans to incorporate her research into her teaching to help equip students with a strong basis for scholarly inquiry and French cultural exploration.
 
For more information on the Jensen Fellowship, please contact Hadley Kelly.