Ngame Recipient of the 2023 Richard H. Brodhead '68 Prize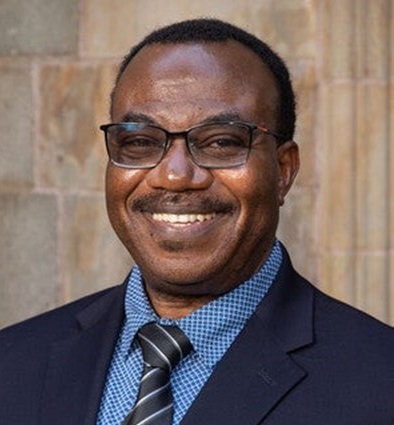 Matuku Ngame, Senior Lector in French, has been chosen by the Committee on Teaching, Learning, and Advising to receive the 2023 Richard H. Brodhead '68 Prize, awarded annually by Yale College for teaching excellence by an instructional faculty member.  This prize is one of the highest honors for teaching that Yale College can bestow. 
In the early fall, winners of teaching prizes receive an invitation from the dean of Yale College to offer a lecture during family weekend, usually scheduled in October.
At the prize ceremony held at the Poorvu Center on Wednesday, May 3, the following citation was read by Pericles Lewis, Dean of Yale College, before an enthusiastic audience of colleagues, family, and students:
"Matuku Ngame, senior lector in French, your students follow you through their French language experience, saying that 'learning under [you] feels like exploration, not work.'  Students are grateful for your skills as an instructor where you balance rigor with 'sheer elation of watching your students learn.'
"Your students also appreciate the laughter in your classroom. 'He has an excellent sense of humor and a phenomenal amount of patience, which have never failed to prevent me from feeling frustrated when I cannot understand a vocabulary word or grammar concept.'
"You have created an environment where students feel relaxed and encouraged but nevertheless appreciate the meticulousness and challenge you bring to learning French. According to your students, you often take the time to 'fully re-explain whatever was queried to the entire class, which removes the element of embarrassment or isolation a student might feel when asking a question.' And many students speak of your open-door office hours, when your students have found sanctuary in your endless hours of additional support. One student says, 'I was overcome by Ngame's willingness not only to help me, but to devise a plan that was appropriate to my weaknesses and needs as a student.' Another says, 'I have never encountered a language teacher with his ability to explain basic concepts. Professor Ngame rarely finds it necessary to break into English, since he is so closely attuned to the level of the class that he can choose the appropriate words to express nearly anything in a manner that the entire class can understand. With his background in linguistics, he can turn boring vocabulary acquisition into an opportunity to understand the mechanics and history of the French language.'
"One last student says that 'because of the positive and interactive environment which Ngame promotes and inspires,' your classroom becomes a community where lifetime friendships are forged.
"For instilling a love of learning through your skill as an educator, Yale College is honored to award the Richard H. Brodhead '68 Prize for Teaching Excellence to you, Matuku Ngame."