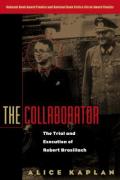 Subtitle or Series:
The Trial and Execution of Robert Brasillac
On February 6, 1945, Robert Brasillach was executed for treason by a French firing squad. He was a writer of some distinction—a prolific novelist and a keen literary critic. He was also a dedicated anti-Semite, an acerbic opponent of French democracy, and editor in chief of the fascist weekly Je Suis Partout, in whose pages he regularly printed wartime denunciations of Jews and resistance activists.
Was Brasillach in fact guilty of treason? Was he condemned for his denunciations of the resistance, or singled out as a suspected homosexual? Was it right that he was executed when others, who were directly responsible for the murder of thousands, were set free? Kaplan's meticulous reconstruction of Brasillach's life and trial skirts none of these ethical subtleties: a detective story, a cautionary tale, and a meditation on the disturbing workings of justice and memory, The Collaborator will stand as the definitive account of Brasillach's crime and punishment. 
http://www.press.uchicago.edu/ucp/books/book/chicago/C/bo3640234.html