Candace Skorupa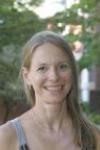 Sr Lector French, Lecturer Comparative Literature and Language Program Coordinator
Address:
Humanities Quadrangle, 320 York St., Room 339
---
Candace Skorupa loves to teach first-year students of French in FREN 110, 120, and 121, as well as advanced students in FREN 150 and 151.  In the department of Comparative Literature, she is the Senior Essay Coordinator and guides the seniors through their senior essay projects.  She has been a lector at Yale since 2005.
She received her Ph.D. (2000), M.Phil. (1996), and B.A. (1992) in Comparative Literature from Yale University.   Her dissertation, "Music and Letters: Correspondances of Notes and Narrative from Berlioz to Proust," was directed by Peter Brooks. 
She has taught French at Harvard University (1999-2002) and at Smith College (2002-2005), and she taught English at Lycée Saint-Exupéry in Lyon, France, with the Fulbright program (1992-93). 
Academic interests : nineteenth-century literature and music, Baudelaire, Berlioz, Symbolist poetry, Proust.