Carolyn Dean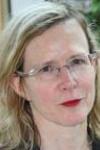 Charles J. Stille Professor of History and French.
Address:
320 York St, New Haven, CT 06511-3627
Field of interest: Cultural and intellectual history of modern Europe; history of gender and sexuality; genocide studies and the Holocaust of European Jewry.
Carolyn J. Dean is Professor of History.  She is a cultural and intellectual historian of modern Europe with a focus on the twentieth century.  She is the author of five books, most recently Aversion and Erasure: The Fate of the Victim after the Holocaust (Cornell, 2010) and The Fragility of Empathy after the Holocaust (Cornell, 2004).  She is also the author of work on gender and sexuality, focusing on France in particular.  She is currently working on a research project concerning the evolution of the concept of "bearing witness" to suffering since the Second World War and its impact on the creation of global humanity.
She held the John Hay Professor of International Studies at Brown University, where she taught before coming to Yale in 2013.  She has been the recipient of several fellowships, including a Guggenheim and an ACLS, and was awarded Professor of the Year in 1996 by the Carnegie Foundation for the Advancement of Teaching and Council for the Advancement of Support of Education.